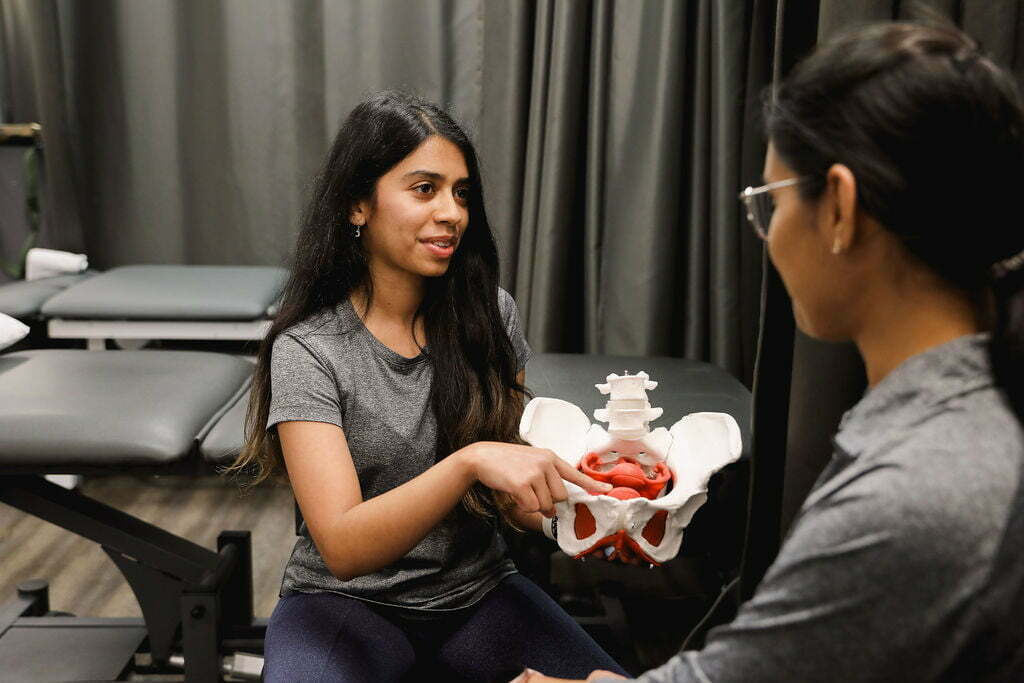 PESSARY FITTING IN TORONTO, PESSARY FITTING IN MISSISSAUGA

Do you feel a heaviness in the pelvic region with activity?
Do you notice a bulge in the pelvic region?
Do you suffer from urinary incontinence?
Do you have difficulty emptying bladder or bowels?
Have you been diagnosed with cystocele, rectocele or uterine prolapse?
Are you seeking to avoid prolapse surgery?
Do you want to reduce your prolapse symptoms?
If your answer to any of these questions is YES, then a pessary may be right for you. Talk to your health care professional today.
WHAT IS A PESSARY?
A pessary is a flexible device most often made of silicone, that is inserted vaginally to provide support to pelvic organs (Urethra, Bladder, Uterus, Rectum) that have descended into the vaginal space (prolapsed).
WHAT ARE THE BENEFITS OF A PESSARY?
Non-invasive solution
Conservative therapy
Improves quality of life in non-surgical situations
Comfortable, you will not feel the pessary when it fits properly
Easily removed and reinserted, can be done independently or by health care practitioner like ObGyn or qualified pelvic physiotherapist.
HOW DOES THE PROCESS OF GETTING A PESSARY WORK?
There are different types and sizes of pessaries that act to support the different pelvic organs in their original place. Some pessaries are worn only with activity and removed independently and daily, others can be left in for prolonged periods of time and changed by health care professionals. The support from the pessary acts much like a bra for the pelvic floor.
The process begins with an initial assessment where your physiotherapist will fit you for the right pessary. Your physician may have given you a referral for a pessary fitting. If not, you may self-refer yourself to get assessed for a pessary, however the pelvic physiotherapist will need clearance from your doctor before ordering & fitting your pessary in. A letter for your MD will be given to you at your initial visit, if required.
It may take a few tries to find a pessary that provides support without causing discomfort. You will be taught proper cleaning and removal if appropriate. Your permanent pessary will then be ordered and inserted for you at a follow up visit. You will be asked to return for a follow up check after using your pessary for 2-4 weeks.
PESSARY CARE
 The pessary is washed with mild soap. Sterilizing your pessary between wearing is not necessary. Pessaries are made of quality silicone and often last 2-3 years if properly taken care of. Over time, they may discolour, but they only require replacement if cracks develop on the surface.
WHERE CAN I GET A PESSARY FITTING IN TORONTO?
At the moment, three of Triangle Physiotherapy locations offer pessary fittings in Toronto. Triangle Physiotherapy King West offers pessary fittings in Downtown Toronto. Triangle Physiotherapy Lawrence Park offers pessary fittings in the Yonge & Eglinton area, Lawrence Park & other areas North of the Downtown core and Triangle Physiotherapy North York offers pessary fittings in the North York area.
WHERE CAN I GET A PESSARY FITTING IN MISSISSAUGA?
At the moment, one of Triangle Physiotherapy locations offer pessary fittings in Mississauga. Triangle Physiotherapy Mississauga offers pessary fittings in the Square One and Erin Mills Area as well as pessary fittings to Oakville clients.